The kitchen is arguably the costliest area of the home to remodel, but the end results are well worth it. This area is considered the center hub of many homes and its role in food preparation is of great pride and significance. When kitchen remodeling is done right, a considerable percentage of the costs will be recouped by the appreciated value of the property. However, this is only achievable when the correct strategies are utilized and the work is done within budget.
Why You Need Kitchen Remodeling
Many homeowners remodel their kitchens because they desire something different. Others remodel it with the goal of substantially increasing the value of the property so that it can be sold for profit. Kitchens are subject to wear and due to this area being heavily used for cooking it generates heat and moisture which overtime can wear out flooring, countertops and other spots.
Regardless of your reasoning for remodeling your kitchen, it is important to plan things in advance. In fact, our staff at GreenTree Construction will advise you to spend more time planning the kitchen remodeling rather than the actual physical construction itself. We recommend at least a 3-month planning window for a kitchen remodeling project, that way your needs are less likely to change during the formal construction, which will increase costs and damage your investment return.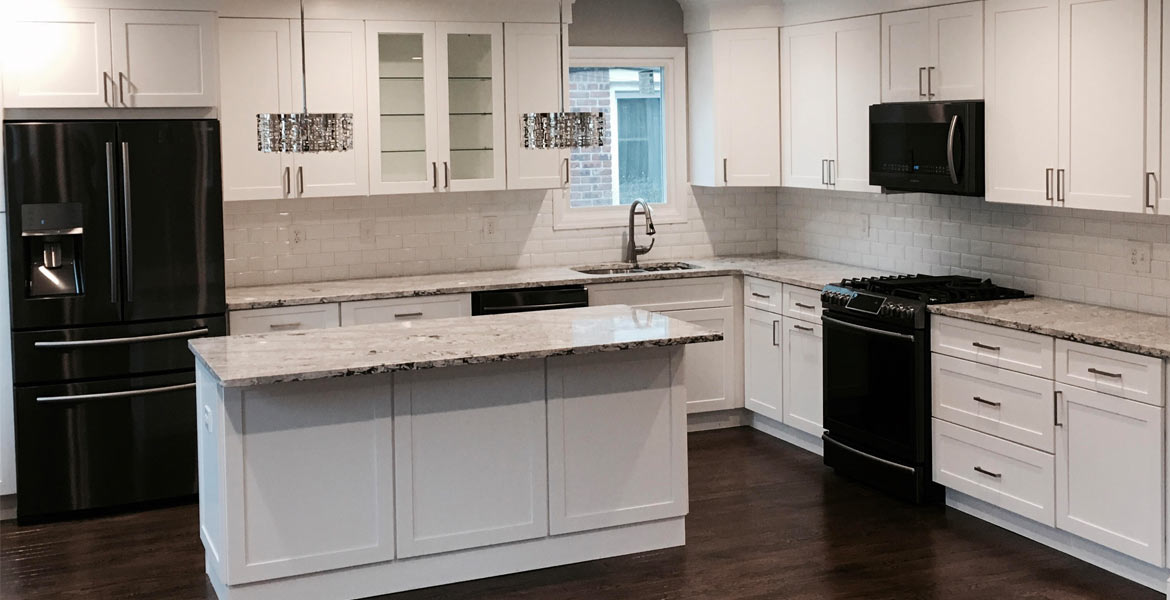 Get Inspired for Kitchen Remodeling
Before embarking on a remodeling project you'll need to evaluate your current kitchen carefully. What is the width of the doorway? What are the traffic patterns? While kitchens come in many varieties, they should all be ergonomically sound and suitable to your needs. Counter heights that you can manually adjust, wall ovens and shelves which pullout are just a few examples of features which are ergonomically friendly. Cooking involves hard work that can be time consuming, so the chef should operate in the most comfortable environment possible.
It is also crucial to select your materials and fixtures prior to the start of the project. This will allow our contractors to make bids with greater accuracy while reducing the chances of delays due to back orders. It is also best to keep electrical outlets and plumbing in the same location, because should you choose to change these your remodeling costs will skyrocket due to the need to knock down walls which can lead to other costly issues.
The Affordable Specialist You Can Trust for Kitchen Remodeling
Whether you desire new flooring for your kitchen, or new cabinets, paint or backsplashes, GreenTree Construction can lend you a helping hand. We have tremendous experience in multiple aspects of construction and renovation, kitchen remodeling included. Our staff will get the job done on time and within budget.
We fully understand that no two projects are exactly the same, and we will spend time consulting with you to determine which approach is best for your kitchen. This particular area of the home is both challenging and rewarding, and our kitchen remodeling team will put in the time, energy and resources needed to make sure it is an area you will enjoy for many years to come! Contact us today!
Check Out Our Kitchens Portfolio